Universal Law of Attraction Article Collection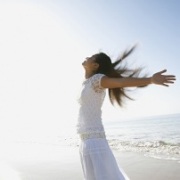 Enjoy the most recent Universal Law of Attraction articles posted on Attraction Saga. This is where you'll find self improvement ideas for health, relationships, money matters, body image, and so much more.
If you have specific questions or you'd like to see a particular subject addressed in an article, please contact me with your request.
Universal Law of Attraction Bible and Religion Debate
Does the Universal Law of Attraction contradict religion? Are these teachings against God, church, or the Bible? Learn the basis of the Law of Attraction v.s. religion argument and unravel the confusion.
Law of Attraction for Health
Are you suffering from a chronic illness and wondering about the benefits of Law of Attraction for health? This article explores the relationship between the Universal laws of attraction, your thoughts, and your body, thus helping you to overcome illness and manifest health.
Law of Attraction Relationship Tips
A great Law of Attraction love guide for creating happy, healthy relationships.
Law of Attraction Weight Loss
This Law of Attraction article discusses the secret to weight loss, dieting, and changing your relationship with food using the Universal laws of attraction.
Manifest a New Job Through Law of Attraction
Many people spend their entire lives working jobs that they hate. If you feel like a slave to the job, learn how the Universal Law of Attraction and manifestation principles can help your career goals.
Manifest Money with Law of Attraction
This article discusses how to manifest money by applying the Universal laws of attraction during times of national or global economic strife. Is your financial well-being really at risk?
Universal Law of Attraction and Feelings
Law of attraction success requires that you practice feeling good. Learn why your feelings are important if you want to create a joyous life.
Law of Attraction: Co-Creating With Your Inner Circle
Law of attraction responds to what you are co-creating with your choice of friends and associates. Learn how to cope with friends and family as you journey toward a better life.
No Means Yes: Law of Attraction and Inclusion
Law of Attraction has an inclusive nature. This article explains why so little progress is seen in our fight against all that we despise.
Law of Attraction Health Guide
Practical self improvement ideas to help with applying Law of Attraction for health.
Law of Attraction and Anger: Overcoming Resentment
Law of Attraction responds to your thoughts, including those of anger. Understand how resentment impacts your point of attraction with Universal laws.
Inspirational News Story
Inspirational news - Boy survives 8-mile river ride on toy
Law of Attraction Desire Manifestation
This article discusses why we always want more--why we are never completely satisfied. Gain a deeper understanding of Law of Attraction and manifestation.
Inspirational News - Blind Mountain Hikers - Law of Allowing
Enjoying this inspirational story of blind mountain climbers is a great way to practice law of allowing and law of attraction
Meditation and Law of Attraction
Meditation is a wonderful resource for relaxing the mind and allow Law of Attraction. This article offers details on the connection between Law of Attraction and meditation.
Law of Attraction and Homosexuality
How does Universal Law of Attraction apply to gays and lesbians?
Deliberate Creation With Law of Attraction
Using the Universal laws of attraction, allowing, and deliberate creation is a guarantee for success. Learn to manifest money, love, and more by deliberately creating your reality.
Abraham Hicks - Universal Law of Attraction
Have you heard of Abraham? Abraham may be the single greatest teacher of the Universal laws of attraction, allowing, and deliberate creation. Learn who they are and how they can change your life starting today.
Inspirational Story of Jasmina Anema
Practice the law of allowing as you give your attention to the inspirational story of a young girl's triumph in the midst of a medical nightmare
Law of Attraction and Thought Control
Law of Attraction responds to what you are thinking. Learn how to allow manifestations without obsessively trying to control your negative thoughts.
Allowing v.s. Resisting Law of Attraction Manifestation
Are the Universal laws not working for you? This article explains how you may be delaying or preventing Law of Attraction and manifestation.
Inspirational News - Wealth
Inspirational news. This is the true story of one man's amazing jump from losing his job to winning the lottery.
Is Law of Attraction For Lazy People?
Article addresses some common misconceptions about the Universal laws, including the role of inspired action in creating your joyful life.
Law of Attraction - Ask And It Is Given - Universal Laws
The law of attraction principle, Ask and It Is Given, is explained. Learn why some people don't see results, how to get out of your own way, and the secret keys to a life of success and abundance.
---
Guest Articles
Universal Laws and Emotional Freedom Technique
with the support of Emotional Freedom Technique we can quickly and systematically neutralize the thoughts that oppose our goals and cause the postponement of our life's dreams.
Universal Law of Belief
The Law of Belief, when understood and practiced, can help anyone to manifest those things in life that they truly want.

Abundance Consciousness Creates Miracles
learning how to create that which we desire, such as abundance and love, by rising above the ego-body-mind-intellect complex and surrendering to the creative, loving energy of the universe

Universal Law of Giving and Receiving
Recognize the abundance and oneness that comes from knowing there is more than enough to give, not just receive.

The Fruits of Fulfillment Are Not Grown Outside
Why is it that fulfillment is presumed to be found somewhere other than within?

Building Relationship Boundaries and Saying No
Learn To Say No…So You Can Say A Bigger Yes To Life!
---
Self Improvement Saga Blog
Want to keep up with new articles as they're added here? Well check out the new, interactive blog where you can comment on every post.
Subscribe to the blog's RSS feed at self-improvement-saga.com/feed by clicking this link. You'll know instantly when new Law of Attraction based self improvement information is posted.
Follow me on Twitter
You can keep up with what's happening at Attraction Saga by following me on Twitter. You'll get tweets about article postings, Law of Attraction quotes, self improvement ideas, and other updates. Just go to http://twitter.com/attractionsaga and sign up.


Donate to Attraction Saga
Want to donate to Attraction Saga and help keep this free information available? Click here for our donation page.If these articles have helped you, please feel free to donate safely and securely via PayPal by clicking here.


Return to Attraction Sage Home Page